Six ways to find skilled nursing care for your loved one.
January 10, 2023
Published by: CHI Living Communities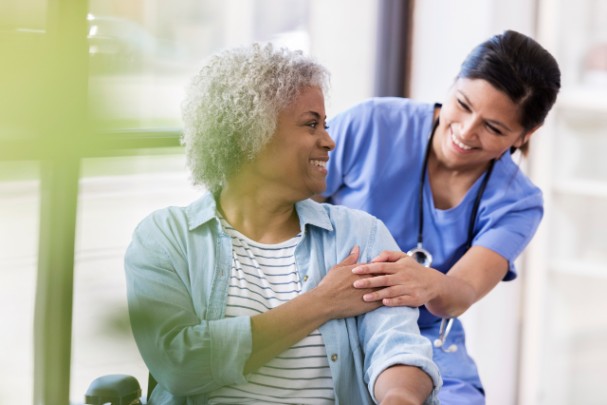 When a loved one has escalating care needs that require more time and attention than can be provided in other environments,, here are six steps you can take to find skilled nursing care for security and peace of mind:
Identify the type of care your loved one needs: Skilled nursing care can include a variety of services, such as wound care, intravenous therapy, and physical therapy. Make a list of the specific care your loved one needs so you can look for a facility or provider that can meet those needs.

Research your options: Look into different facilities or providers in your area that offer skilled nursing care. You can use websites such as Medicare.gov to compare facilities and read reviews from other patients and families.

Consider the location: Make sure the facility or provider is conveniently located and easy for you and other family members to visit.

Tour the facilities: Visit the facilities you are considering to get a feel for the environment and meet with the staff. You may also want to ask about the staff-to-patient ratio, the availability of social and recreational activities, and the process for handling emergencies.

Get references: Ask the facilities for references from current or former patients and their families. This can give you a better understanding of the quality of care your loved one can expect to receive.

Make a decision: After considering all of these factors, choose the facility or provider that best meets your loved one's needs and your family's preferences. Don't hesitate to ask questions and voice any concerns you may have.
Many of our CHI Living Communities campuses have skilled nursing options available. Here is a list of our communities that can provide skilled nursing care for your loved one:

Franciscan Villa, South Milwaukee, Wisconsin
Bishop Drumm Retirement Center, Johnston, Iowa
Madonna Manor, Villa Hills, Kentucky
Franciscan Care Center, Toledo, Ohio
Providence Care Center, Sandusky, Ohio
The Gardens of St. Francis, Oregon, Ohio
St. Clare Commons, Perrysburg, Ohio
St. Leonard, Centerville, Ohio

If you have further questions, please contact the facility in your area or contact us here.