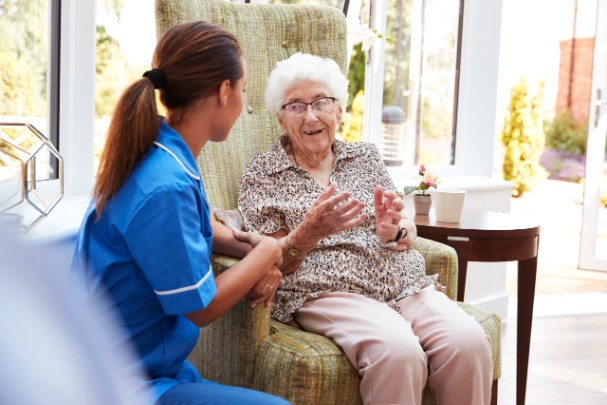 What is assisted living?
Assisted living is a type of senior care designed for those who need help with various activities of daily living (ADLs), and our level of support can vary based on what our residents want and need. We offer assistance with getting in and out of bed, bathing, eating, walking or climbing stairs, and more. We also provide services like safety responses and medication assistance to enhance our residents' well-being.
Who benefits from assisted living?
A common reason people consider assisted living is when their day-to-day activities become too difficult to perform on their own. Another benefit of assisted living is the fellowship and sense of camaraderie that a senior community can provide. Becoming socially isolated is a health detriment, and moving to a place with people in a similar life stage can make a huge difference.

What does CHI Living have to offer those interested in assisted living?
Through our assisted living programs at CHI Living Communities, you or a loved one can enjoy living fully without worry. Our goal is to support our residents' mental, physical, and spiritual health while providing them with the freedom to do everything they're used to doing. Some CHI Living Communities are also recognized as continuing care retirement community campuses with all levels of care onsite, allowing for an easy transition as residents age.
Personalization - Needing help isn't about restrictions. We can assist with a variety of activities of daily living by providing support tailored to how and when our residents need it, whether it be medication assistance, grooming, dressing, or bathing, all within a fulfilling environment.
Safety features - Our locations are equipped with safety features like emergency call buttons, which allow residents to access our team at a moment's notice. With 24/7 staff, you can feel secure knowing you are in good hands.
Nutritious dining - We provide chef-prepared meals that delight the taste buds and benefit health. Come on down to the community dining room and enjoy a delicious meal with friends, or request your meal be delivered to your room if unable to travel to the dining room.
Transportation services - Need a ride to your favorite local grocery store? Some of our communities offer transportation services for residents, so you can enjoy all the favorite spots you've always enjoyed.
How to know if assisted living is the right choice for you?
When you or your loved one is making the move to assisted living, you want to know you're making the right decision. Determine your priorities—especially the non-negotiables—when looking for your new home. It is helpful to discuss every part of the decision-making process with someone close to you.
When is the right time for assisted living?
The decision is up to you and what feels right. Consider the benefits of moving into a senior community, and speak with a trusted loved one about your thoughts. You can even talk to a CHI Living Community team member to see whether it may be right for you or your loved one.
How to support a loved one moving into assisted living
Beyond helping your loved one choose the best community for them, there are a few more steps you can take to make the transition easier.
●      Help them meet their new neighbors
●      Familiarize yourself with the community staff, and don't hesitate to bring up any questions with the caregivers
●      Make sure that your loved one has a copy of events and a list of clubs that take place in the community