Ways To Keep Grandkids Close Across the Miles
April 21, 2021
Published by : CHI Living Communities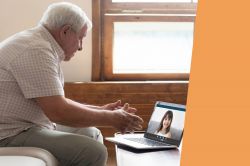 Here are some ideas to consider …
New ways to use video chats. Maximize the effects of WhatsApp messenger and texts by sending:
Age-appropriate articles
Jokes and memes
Short but regular messages to carry your greetings and spread love
Share books or TV shows. If your grandchildren are very young, you might schedule regular calls at bedtime to read them to sleep. If that's not practical, create a recording — recorders are inexpensive and you can even email the MPEG files. If your grandkids are older, ask them what they're reading, then get a copy of some of the titles and read along so you can share the experience when you talk with them. The same thing goes for age-appropriate TV shows and sports.
Play online games. Maybe you're not up for Fortnite, but with the right apps you can join in with your grandkids for Battleship, Scrabble, 20 Questions, Pictionary and much more. All of these can provide you with hours of fun together!
Share a project or meal together. Come up with a challenge like drawing or photographing five different animals. Then share the visuals when you talk. Or, send some seeds as a garden project. Choose a recipe that both you and your long-distance family agree to make at the same time, enjoying a video call during the process. Once the meals are ready, you can continue the conversation over your respective tables.
Share your personal history. Create a private YouTube channel and tell your grandchildren stories from your life. Or, burn a CD. Either way, you can share short "episodes" of your life, and your grandkids can ask questions you can address the next time you talk. Don't forget to encourage them to share their own stories, dreams and hopes for the future, too!   
When gifting, consider experiences. Consider tickets to a sports event, a zoo or museum membership, or a subscription to a favorite movie channel.
Cards and letters. Let's not forget the USPS! Notecards and letters may seem extra special to receive during these "digital days," especially when you tuck in a special photo of your current activities, or from a recent vacation or from many years ago. They will either bring back fond memories or help you to create new ones! Be sure some are funny – perhaps your pet doing a new trick or you trying to take a bite out of a humongous sandwich.
Let these suggestions inspire you to widen and deepen your family connections. Be sure to have plenty of fun along the way with any long-distance friends, too!