Staying Safe During Summer Travels
 June 9, 2021
Published by: CHI Living Communities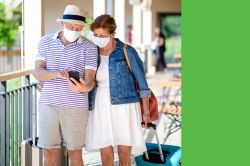 Before hopping onto the next plane or train to check another destination off your bucket list, plan ahead to ensure your safety to avoid catastrophes while away from home.
Visit your health care provider at least one month before you travel. Discuss your medications and any medical conditions that may present limitations. Ask if any of your medications might interact with travel medications you may need to take, such as medicine for altitude sickness, travelers' diarrhea or malaria.
Get up-to-date on your vaccinations, including the COVID-19 vaccine, tetanus, seasonal flu and measles/mumps/rubella. More than one-half of tetanus cases occur in adults over age 65, so consider getting a booster before you travel. Also, ask your doctor if there are vaccines recommended for the countries you will be visiting.
Consider how to prevent injuries. The most preventable cause of death among travelers is injury. Follow these precautions:

Always wear your seatbelt
Accept rides only from marked taxis that have seatbelts
Be aware of your surroundings and avoid areas that may not be safe for tourists, which a hotel's concierge can advise you about
Be especially careful crossing the street in countries where people drive on the left
Do not wear visible signs of wealth, such as an expensive watch or jewelry
Carry limited cash and keep that, along with traveler's checks or credit cards, secured in a pouch worn underneath clothing
Avoid traveling at night in a developing country.
Finally, check with your insurance company to see what is covered if you need medical care in another country; you may want to consider purchasing travel insurance.
With advance planning that focuses on your safety, you are sure to enjoy your trip and return home with memories to last a lifetime!