When and Why To Consider Memory Care as an Option - A Family's Story
Updated October 11, 2022
Published by: CHI Living Communities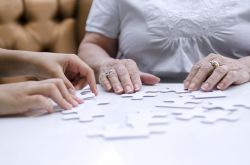 Choosing a memory care living option for a loved one is not an easy decision. Take the story of Helen and Bob, with Helen going through a long and arduous process of deciding to place Bob in a CHI Living Communities' Memory Care Unit. Nothing was easy five years ago, two years ago, or even now, but with the ongoing encouragement and support of their family and healthcare professionals, Helen feels this is best for Bob.
Bob was first diagnosed with vascular dementia five years ago, after returning from a Florida family vacation, where he wandered off for several hours. Fortunately his family found him, but that was the beginning of the family journey into dementia and what it really meant not just for Bob, but also those who loved him most.
Helen cared for Bob at home, always making sure either she or a trusted someone was with him. She says, "It was very easy for Bob to disguise his condition. He is a very brilliant man who can be very engaging in conversation. He has an amazing way of evading reality. I came to the realization how much I too, actually compensated for his loss of memory."
Several years after the diagnosis, Bob was admitted to the hospital for a health condition. The doctors would question Bob about where he was. Helen warned the staff that he would be wandering at night at the hospital as he had been doing at home – and she was right. It became clear to the hospital staff that Bob was a handful. Helen gives credit to the doctors and nurses who cared for him. "They recommended he go to rehab upon release from the hospital, but I had no idea at that time this would become a permanent situation," she says.
Anger set in for Bob, first going to the hospital, then going to rehab. "Bob is the most polite man I know, but he said some very harsh things that just were not characteristic of him," says Helen. The decision to come to a CHI Living Community was logical since Bob is a deeply religious person and coming here would afford him the opportunity to attend services and practice his faith.
After consultation with staff and family, the decision was made for Bob to remain in Memory Care. Gradually, Bob's anger decreased and he adjusted and made friends. Helen would visit every day at first, but she was encouraged to come less frequently so he could acclimate to the programs. One day Helen commented to her daughter, "I'm not sure this is the right thing to do for him." Her daughter replied, "Mom, do you really think that we would let you do something wrong to that dear man?"
Bob has adjusted well and become a helper bee in the unit. He has a good friend and they are very supportive of each other. He loves looking out the window at the birds. "He loves to play bingo," says Helen. "Yes, but he doesn't share his drawer-full of prizes!" laughs Mary, his daughter.
Helen and their family are very grateful for the staff support. "Sheila is an awesome aide. She is so dedicated and patient.  Activities coordinator, Samantha, is fully supportive and lets Bob help with filling the bird feeders and planting things. And Erin, our social worker when we first arrived, was an amazing support during the first few months."
CHI Living Communities' Memory Care teams are trained specifically to work with residents with various forms of dementia. "Living in the moment is key!" says Nikki Vawter, Director or Marketing at St. Leonard.   "Although they may not remember something in a few minutes, the NOW is very important."
"It's important to provide activities that engage and bring pleasure to people living with Alzheimer's and dementia," says Samantha, Memory Care Activities Coordinator. "Stimulating activities can help keep them in high spirits while lessening anxiety and irritability. In Activities, we aim to stir memories and allow them to reminisce about their life, foster emotional connections with others, encourage self-expression, make them feel more engaged with life and help them feel productive."
There are still plenty of opportunities to engage with family and friends in most situations. Helen takes Bob out for dinner and swimming at the campus indoor pool.  When she returns him afterwards, she is comforted to know that he is looked after and taken care of.
Helen still struggles whether or not she has made the right decision for Bob.  She says, "When Bob says I thought we were in this for better or worse, that just hurts. But I say to him, "I know, but this is what the doctors feel is best. And if I were in your position, and you were in mine, you would listen to the doctors and value their professional opinions."
All in all, their journey continues with memory care in the picture. Helen is still blessed with a loving husband, and Bob is blessed to be in a safe and nurturing environment, bringing peace of mind to his wife, Helen and their family.
If you would like more information or a tour of any of CHI Living Communities' Memory Care Units, please click here to find a location.