Meet Betty From the Chaminade Apartments
February 1, 2022
Published by: CHI Living Communities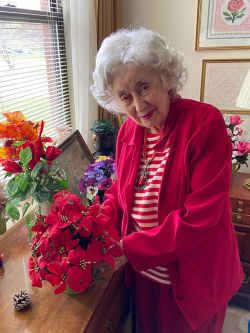 Betty has been a Chaminade apartment resident for almost eight years.  Betty is frequently seen delivering baked goods to staff and residents in appreciation for all they do, or even for just who they are. Betty is also a very crafty person, making silk floral arrangements for the Chaminade resident birthdays and scissor holders for the new residents when she welcomes them as a representative of the St. Leonard Hospitality committee. She always has a kind word for all and enjoys doing things for others.
Betty grew up in the Dayton area. Her mother, a well-known dressmaker in this area, taught Betty the art of crafting that has carried on throughout the decades. After graduating from Stivers High School, Betty entered cadet nurse training at Miami Valley Hospital in Dayton. World War II ended six months before she finished training so there was not a need for her to be sent overseas. Instead, she became a nurse in public health, hospital nursery and various area doctors' offices. Betty also took on administrative duties, becoming a "one-nurse" office in many situations. She retired in 1991 to take care of her mother and aunt.
After her husband passed away in 2012, Betty came to St. Leonard, primarily because she did not want to be alone. A number of people from her church had moved to St. Leonard, so it made sense to move where she had an established network of friends. Moving into a Chaminade apartment allowed her privacy and her own space, but plenty of people to talk to and things to do just outside her door. Not having children of her own, she has "adopted" many of the staff who affectionately call her "Mom." Betty has nurtured her network of family and friends over the time she has been at St. Leonard, which has grown exponentially since the day she had moved in.
St. Leonard is fortunate to have residents like Betty.
Several Chaminade apartments are now available! For more information, please contact Nikki at 937-583-6684.