Getting To Know Our People: Tom Hess, Lover Of Nature and the "Little" Things.
 February 1, 2022
Published by: CHI Living Communities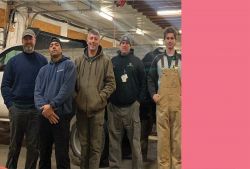 Helping a resident get dressed. Delivering meal trays. Preparing invoices. Cleaning floors. Admitting a new resident. Whatever your duties may include at CHI Living Communities, your unique talents are vital ... whether directly providing care for residents or indirectly supporting co-workers who do.
Tom Hess, Grounds Supervisor at St. Leonard in Centerville, OH, is living proof. While the average American today stays in the same job for only four years, on March 24 Tom will complete 23 years of service for his campus.
What keeps him there? The active outdoorsman immediately replies, "The residents."
Tom's day-to-day responsibilities include working in all types of weather to trim bushes, mow grass, mulch, plant trees, remove snow, lay salt on icy asphalt, move deliveries around campus with a tractor, tend to nature trails, and deal with all types of wildlife on St. Leonard's beautiful 150-acre property.
His crew includes five others, as well as a few volunteers, and he's currently looking to hire a couple more team members.
"Having grown up on a small farm, I always loved being outdoors. Yet, I didn't like farm work," Tom explains. "After college, I learned from a brief stint at a local manufacturing plant that I also didn't like factory work either. That's when my girlfriend's uncle – a maintenance worker at St. Leonard – suggested I apply for a job on campus.
"When I was first hired in 1999, I worked with an 81-year-old," says Tom. "Over the years I've grown to appreciate working with all types of diverse people – from high school-aged students to those much older than me, and from all types of backgrounds."
Despite being drawn to the outdoors and enjoying working alongside a wide variety of people, what primarily keeps him coming back for more are the seniors he serves.
"There are certain residents whom I'll remember always. It's the 'little' things about them I love," Tom admits. "One gentleman comes out to give us a handful of caramels every time he sees us mowing. Others have helped mow grass and change furnace filters. We've also got residents who occasionally bring us cookies or donuts to the shop."
These are the extra "bonuses" no paycheck or factory job provides, he adds.
A few years after he started working at St. Leonard, Sr. Kateri Theriault, OSF – the campus' former Mission Integration Director – talked with him about making a CHI Living Communities' pilgrimage to Italy. Confesses Tom, "Next to the birth of my kids, it was the experience of my lifetime!
"I had thought about going, yet wasn't sure if I could. By that time I was a supervisor, but I wasn't Catholic. The more I learned about the Franciscan Sisters – and especially about Saint Francis' philosophy about nature – I felt compelled to go," he says.
Sr. Kateri discussed with Tom how closely his interests mirrored Saint Francis,' whose devotion to God was expressed through his love of animals and nature.
"She even suggested maybe he had 'nudged me' toward working for St. Leonard and later joining the pilgrimage," he says.
"I was thrilled to be invited and decided to make the trip. We soon flew to Italy, where we spent 10 days learning and touring Assisi – Saint Francis' birthplace – and Rome. It was absolutely life-altering," Tom comments.
What advice does he have for new employees?
"Joining CHI Living Communities really is like becoming part of a family. Even though we're all different and have separate roles, we all still work for the same mission – helping residents," he says.
"Tom is part of the finest group of employees I've ever met," states Nick Carson, Executive Director. "He and his entire crew are dedicated to making sure our residents are safe and feel comfortable in their homes.
"Not only is Tom highly regarded for maintaining our grounds, but his entire family also has gotten involved here," says Nick. "They serve dinner at the annual resident Christmas party, and participate in events like our annual Boomer Fest and 5k runs."
"Younger people sometimes wonder what career they should choose. As a kid, I never thought, gee, I want to grow up and be a groundskeeper," notes Tom. "I think if you follow your heart and find something you really like doing, you eventually figure out your calling.
"Today, I know I'm exactly where I was meant to be."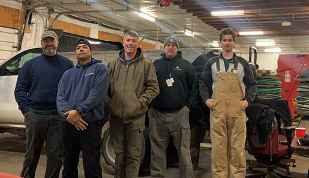 (l to r : Buzz Crabtree, Jeff Deleon, Tom Hess, Mark Brown and Tristan Lemley)