Fred & Patti's Home Is Here At St. Leonard
 Saturday, June 26, 2021
Published by: CHI Living Communities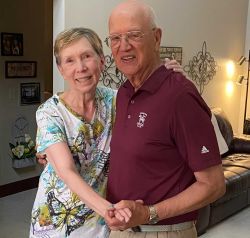 Fred and Patti moved to a St. Leonard independent cottage six years ago after looking at retirement communities on and off for five years. During that time, Fred being a true engineer, kept a spreadsheet of locations visited and the criteria ratings of each one. They had visited St. Leonard several times. "When we visited the St. Leonard campus, so many residents were out and about, walking and biking. They were so friendly, helpful, and informative. Yes, we were sure - St. Leonard was definitely our choice," they said.

What Fred and Patti enjoy most about living at St. Leonard is the people. "This is really a true community atmosphere, with warm, caring, and empathetic residents and employees. We are now blessed to know many of these people as our friends and neighbors," Patti says. They also enjoy many of the activities that abound here including dances, dinners, happy hours, seminars, concerts, etc.
Fred, an Air Force veteran, is active in the St. Leonard Veterans Association. Patti volunteers in activities, the holiday bazaar, the hospitality committee, and campus mail. They both enjoy helping out at special campus events like BoomerFest, Open House, and the annual Day of Caring Pancake Breakfast.
Fred and Patti came to the Dayton area when Fred was transferred to Monarch Marking systems in Miamisburg. (He recently retired at age 83!) Patti was a full-time mom who stayed home with their daughter, then returned to work. Their daughter, grandchildren, and great-grandchildren live in the surrounding areas, and time spent with them is highly cherished.
Post COVID:
The COVID pandemic was at the very least, a trying chapter in most people's lives. Fred and Patti say, "We will always be grateful for the sincere care and concern shown at St. Leonard, from employees and residents alike. We are most appreciative for the vaccine availability afforded us through the efforts of so many at St. Leonard. Because we were able to safely celebrate our 50th wedding anniversary with a trip to Tennessee. To quote a very dear St. Leonard friend – "Thank you – thank you  - thank you!"
Cottage homes are available for fall move-in. Call Angie McGraw, 937-439-7137 for more information or to schedule a tour.