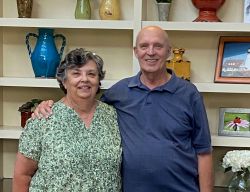 Chuck and Roz were very familiar with St. Leonard prior to moving here in 2018. Roz had been a night nurse in St. Leonard Assisted Living for eight years, retiring in 2011. They had also joined the St. Leonard Faith Community church. Both knew someday they would be living here.
So what do Chuck & Roz like about living here? Chuck says he enjoys living among people of similar age and interests, the various activities, and the friendliness and competence of campus staff in all areas.

They are also impressed by the appearance and maintenance of campus facilities and grounds. They enjoy the walking opportunities throughout the campus, particularly the nature trails. Roz says, "Most important are our good neighbors and friends who are always there to help you if needed."

Both keep very busy and engaged. Chuck volunteers to pour coffee in the Assisted Living dining room. He also plays his dulcimer during lunch, and volunteers as an escort for resident off-campus outings. Roz is co-chair of Kreative Korner, and has been chairwoman of the annual St. Leonard Day of Caring Pancake Breakfast for the past five years.

Chuck and Roz are originally from Canton, Ohio. Roz had a rewarding 30-year career as a nurse. Chuck, a graduate of the University of Notre Dame, entered the Air Force upon graduation, which took them all over the world. After retirement, they relocated to the Dayton area where Chuck continued as a government contractor for another 20 years.

They raised four children, now scattered across the country. Two years ago, they gained another son, daughter-in-law, and three more grandchildren when a son Roz gave up for adoption 56 years ago found her through DNAMatch. "A blessing in every way and a Hallmark story in reality!" says Roz.

St. Leonard is proud and honored that they chose St. Leonard as their home!