Share Your Time and Talents – Volunteer!
June 2, 2021
Published by: CHI Living Communities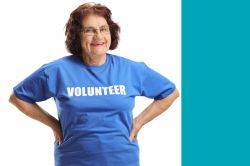 There are many community agencies and non-profit organizations that rely on volunteers to help them carry out their mission. Why not find one you believe is important to support and share your talents by volunteering?
Most organizations welcome volunteers of all ages, and can offer flexibility regarding the number of hours you volunteer per month. Be sure you set realistic parameters that best suit your availability and abilities.
Among the many non-profits that appreciate senior volunteers:
American Red Cross
Meals on Wheels
Big Brothers Big Sisters
Local parks, gardens and art museums
Hospitals
Food banks
Symphonies
Long-term care campuses and hospices
Churches and other places of worship
Foster Grandparent Program
Habitat for Humanity
Read for Literacy
County Social Services agencies
Whether you might like to help tutor a high school student in math or work alongside others to build a home for someone in need, the skills needed in every community are endless!
Don't know where to start? Check with listings at your church or local library, or contact AARP for a list of organizations that would welcome your help.
Or, consider contacting the CHI Living Communities campus closest to you because we welcome volunteers, too! Visit www.homeishere.org to find the address and telephone number.
Communities thrive when citizens of all ages come together for the collective good of others!