A profile in leadership: Prentice O. Lipsey, President and CEO, CommonSpirit Senior Living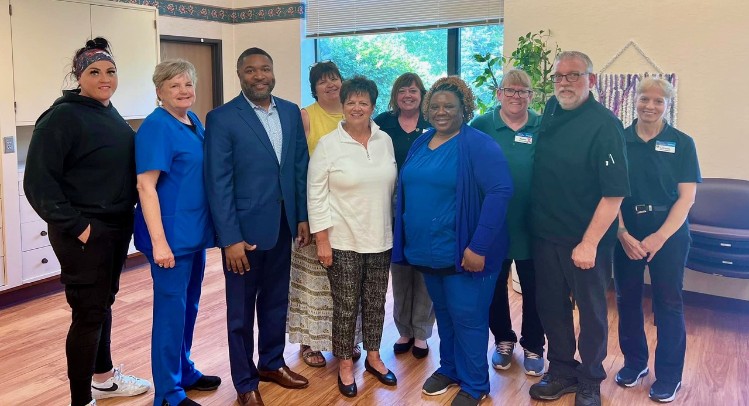 Senior Living President and CEO Prentice O. Lipsey (third from left) met with Riverview Place employees in Fargo during a Brown Bag with the Boss session.
This leadership profile originally appeared in "Insights" — a publication produced by CommonSpirit Health, our parent company.
In January 2022, Prentice O. Lipsey became President and CEO of CommonSpirit Senior Living. This important part of our ministry offers multiple living options: independent living, assisted living, memory care, skilled nursing and rehabilitation and adult day services. Every day, the Senior Living team serves more than 2,200 senior residents in seven states on 15 campuses. Here, Prentice shares his insights on inclusivity and belonging in the workplace. 
What does inclusion mean to you?
As I get older, my thoughts on inclusion have been increasingly shaped by understanding that everyone desires to be a part of something other than themself. At home I have a picture of various colored feathers that represent my family. Under it is a notation to "Find your tribe and love them hard." People have the capacity to love others despite their differences, particularly when they feel accepted.
What skills learned elsewhere have been most useful?
I began as a pharmacy tech and then worked in several administrative roles before joining CommonSpirit in 2015 as executive director of St. Leonard near Dayton — among the largest post-acute campuses in the nation.

I relate to employees at all levels because I value them as individuals. I've also tried learning as much as I can from others, which has helped me adapt to new situations. Both of these skills are useful in building an inclusive culture.
What makes you feel included at CommonSpirit?
Being highly accepted as both a unique person and as a leader. My style is very personable, and that's genuinely valued by mission-based organizations like ours.
In turn, how do you foster inclusivity for others?
A key priority of mine is creating a culture where every employee knows they are vitally important to our team, regardless of their backgrounds or titles. To succeed in our ministry, we must believe our differences make us stronger.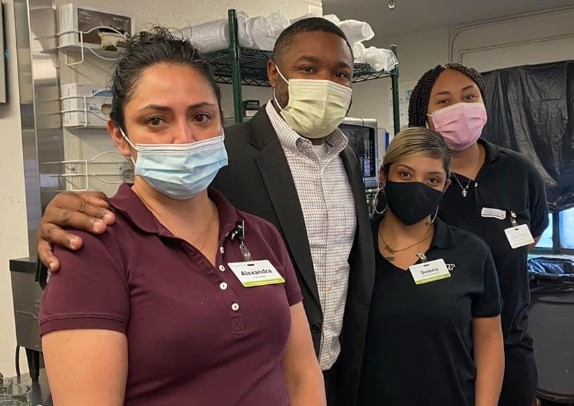 Prentice met with dietary employees at The Garden at St. Elizabeth in Denver.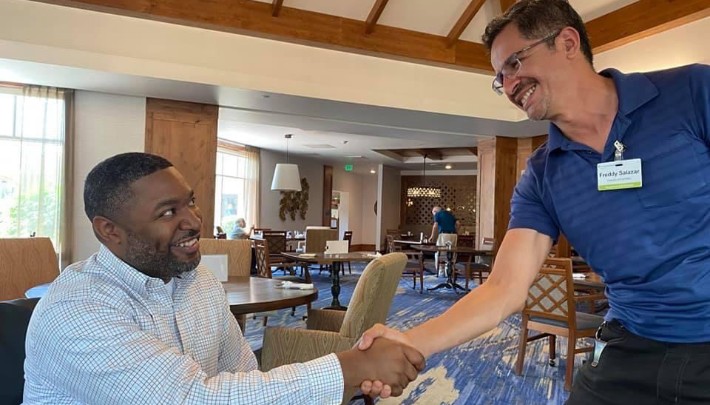 Prentice often travels to meet employees, such as Freddy Salazar at The Gardens at St. Elizabeth in Denver.
An action I took when I first became CEO was establishing an employee awards program to recognize many more members of our team. I also launched "Brown Bag with the Boss" sessions — small-group meetings with campus employees across the U.S. that enable me to get to know our people personally, listen to their ideas and demonstrate how important they are to us.