Planning a Perfect Picnic
 May 26, 2021
Published by: CHI Living Communities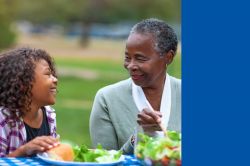 You and your spouse, friends or neighbors can sit socially distanced and still enjoy each other's company over a scrumptious meal outside. Many singles feel comfortable packing lunch for one simply to be in the great outdoors. And, if you have a pet, be sure to take Fido along, too!
Here are other considerations to enjoy a picnic this summer:
You don't need a traditional picnic basket to enjoy your outing – try a small laundry basket or sturdy cardboard box. If you have a ways to travel from your car to the picnic spot of your choice, find something with wheels to make the journey easy, such as your grandson's red wagon or a tote on wheels.
If you plan your picnic in advance, save condiments from take-out meals, such as packets of salt and pepper, ketchup and mayo. That will certainly lessen your load!
Pack your items in reverse order, so the blanket is on top, followed by dishes and utensils, then food. That way, when you unpack your picnic, things are organized and you don't need to dig around to find what you need.
Don't forget to pack a couple of plastic bags so you can store trash or transport dirty casserole dishes back home.
If you are taking cold foods, use the 75-25 rule to make sure items are properly stored: 25% of your cooler should contain ice, and 75% should be cold food items. Also, use large blocks of ice or icepacks, because ice cubes melt much faster.
Keep cold foods insulated until you're ready to eat them; until then, place your cooler in the shade vs. the hot sun. And, remember to eat hot food within 2 hours of being cooked so they're safe to eat.
Easy meals to pack include cold pasta salads, small bags of celery or carrots, individually wrapped sandwiches, and side dishes and desserts prepackaged into correct portions, so you don't need to cut and serve food.
Although you may be a grill master, you may want to avoid using a public grill. If the weather is nice, you might have to wait awhile for others to finish using the grill; and, public grills may not be sanitary, despite their hot cooking temperature.
Be creative when transporting food. For instance, use cupcake papers to transport deviled eggs. If you have a warm meal, leave it in a baking dish with handles, then simply tie a dishcloth through its handles to secure the lid so there aren't any spills.
Make cleanup easy by avoiding dishes, utensils or cups that need washing. Many paper products can be recycled, including paper plates and plastic cups, which are perfect for picnics.
Choose a location where it's easy for you to sit – on a park bench, a blanket on the grass, or perhaps take a lightweight folding chair, if you prefer. Be sure to consider your surroundings: if you feel safer, set up your picnic close to a pathway where joggers and families stroll so you're not isolated alone for any length of time.
Finally, regardless of how simple or fancy you choose your picnic to be is not important. The most fun comes from the company you share and the sights you take in while enjoying simply being outdoors!