Meal Options When Prep Becomes Difficult
April 7, 2021
Published by: CHI Living Communities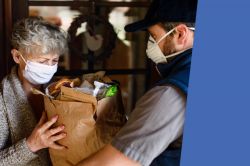 Many seniors risk falling into nutritional frailty — a condition where muscle mass and strength are lessened — when eating regular, healthy, nutrition-rich meals becomes challenging. Numerous meal delivery services were developed to meet this growing need, and seniors conveniently can choose from options that best fit their lives.
If you're low on energy or have a disability that makes cooking difficult, you may prefer services that offer fully prepared meals. Also, if you enjoy cooking but don't like the hassle of shopping, meal kits can be delivered right to your doorstep with all necessary ingredients. Further, seniors living alone may enjoy a meal service offering fully prepared, one-person meals that can be frozen for later use.
In addition to Mobile Meals or hiring a home health aide who might be able to prepare meals in advance, there are many ways to get assistance with your meals. These options include food delivery memberships rated highly by senior nutrition experts.
Below are just a few of the many available; click on each provided link for more details, including prices.* (Note: Some health insurance plans offer coverage for home-delivered meals — be sure to check with your insurer beforehand.)
Snap Kitchen. Fully prepared meals created by registered dieticians, with options for breakfast, lunch and dinner. Low-carb and high-protein meals plans available. Not every state is covered; check their website for details.
Freshly. For older adults who live on their own, prepared meals that feed one person. Meals last about five days in the refrigerator and can be frozen. Customers choose from a weekly menu of 30+ meals, selecting delivery date and time. Full info on their website.
Silver Cuisine by bistroMD. These are bariatric doctor-designed meals fully prepared by chefs. Options include heart-healthy, gluten-free, diabetic-friendly, low-sodium, low-carb, dairy-free, vegetarian, Mediterranean and menopause-friendly. More info here. 
Magic Kitchen. Fully prepared frozen meals packed in dry ice and delivered by FedEx or UPS. Most meals are microwavable, though some need to be heated in an oven. Two options: A La Carte (mix and match) and Complete Meals. Many diet-specific choices include renal diets, dialysis-friendly. More details here.
Real Eats. Offers fully prepared meals in vacuum-packed bags. Users either boil the bag in hot water or remove the food and microwave it. Breakfast and dinner options are sourced local and organic whenever possible. Check their website. 
Mom's Meals. Fully prepared, dietitian-designed meals that are refrigerated, not frozen. Meal plans suitable for older adults with conditions including diabetes, chronic kidney disease, cancer and difficulty swallowing. Medicare and Medicaid may cover all or part of Mom's Meals costs under a "home-delivered meals" benefit. Contact your insurer to discuss, and visit Mom's Meals for details.
Home Chef. Offers meal kits with prepped and pre-portioned ingredients, many ready to eat in under 30 minutes. They also offer full salads, grill-ready meals and oven-ready meals that come in an oven-safe tin, with no prep work. Up to 8 servings per meal. More info here.
 * Note: CHI Living Communities neither endorses nor tests any of these services or meals. As with any service or membership, be sure you fully understand the terms of a company's contract before you sign up for services, plus carefully check reviews, discuss with your family or physician, or otherwise assess all terms in advance.