Keeping Your Kitchen Safe
 June 15, 2021
Published by: CHI Living Communities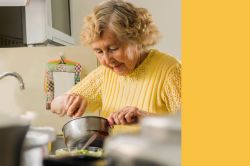 Because people often spend a lot of time in the kitchen – preparing meals, eating and socializing with friends – that's a great room to start making modifications for aging-in-place comfort and safety. 
Safe kitchens for seniors include:
Task lighting in key locations, such as above the sink and stove
Arrangement of most-used items at or just above the waist
A hot-proof surface near the oven, with potholders or mitts nearby
Pressure-balanced, temperature-regulated lever faucets
Expanded countertop space
A clean hood range
Color contrast of cabinets and counter surface edges for those with vision challenges
A sturdy step stool with a hand rail that is appropriate for your weight
D-type cupboard door handles that make opening and closing doors easier
Pull-out shelving for easy access to under-counter storage
Switches and outlets located at the front of the counter
With additional safety modifications made in other areas of your home, including your bathroom and bedroom, you may extend the time you're able to enjoy your home!
If you want to begin learning about other senior living options available to you, including Independent Living, contact one of our trusted advisors who can offer the information you need to ensure you remain safe, comfortable and close to loved ones as you age.
For the CHI Living Communities campus nearest you, visit www.HomeIsHere.org. We would welcome your call and can set up a tour or time to meet that's most convenient for you!