Grilling While You're Chillin'
 June 30, 2021
Published by: CHI Living Communities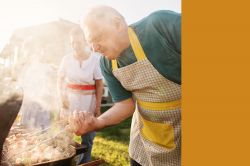 Visit cooking websites for new recipe ideas that will bring you outside for cooking, like this one is from www.marthastewart.com:
Grilled Chicken and Zucchini Salad
Ingredients:
½ cup plain yogurt (not Greek)
1 tsp. minced garlic (or 1 clove)
¼ cup extra-virgin olive oil
1 tsp. chopped fresh dill
Salt and pepper to taste
8 chicken cutlets (about 1 ¼ lb.)
3 medium zucchini (about 1 lb.), cut into ½-inch thick slices
1 tsp. grated lemon zest, plus 2 tsp. fresh lemon juice
4 cups of romaine lettuce
(Optional) 6 radishes, cut into ½-inch wedges
Instructions:

Preheat the grill to medium-high. Stir the first 5 ingredients together. Add chicken and toss and let stand for 15 minutes.
Toss zucchini with 1 Tbsp. oil and lemon zest; season with salt and pepper.
Brush grill with oil and grill chicken and zucchini until chicken is just cooked through and zucchini is charred in spots – 2 or 3 min. per side for chicken; 4 to 6 minutes per side for zucchini.
Toss lettuce and radishes with remaining olive oil and lemon juice, then season with salt and pepper.
The less time you spend in the hot kitchen, the more time you can enjoy chillin' outdoors … next to the grill with your friends and refreshing beverages. Enjoy!