Falls and fractures in older adults
September 19, 2022
Published by: CHI Living Communities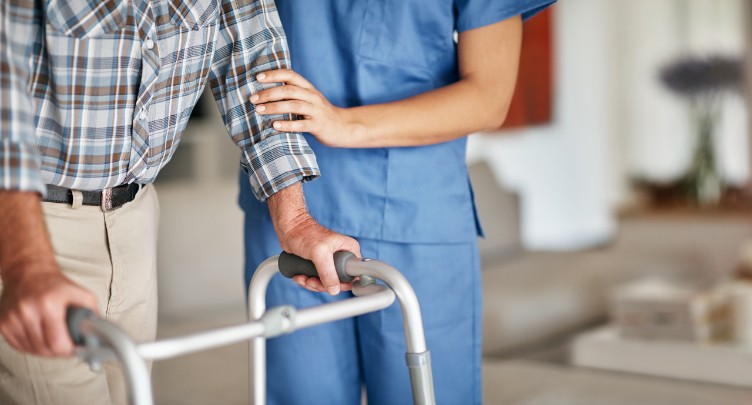 The third week of September is National Falls Awareness Week, with Falls Prevention Day occurring on the first day of fall. Here is an excerpt from the National Institute on Aging below on how to prevent falls and what to do if you experience a fall.
A simple accident like tripping on a rug or slipping on a wet floor can change your life. If you fall, you could break a bone, which thousands of older adults experience each year. For older people, a broken bone can also be the start of more serious health problems and can lead to long-term disability.
If you or an older adult in your life has fallen, you're not alone. More than one in four people age 65 years or older fall each year. The risk of falling  and fall-related problems rises with age. However, many falls can be prevented. For example, exercising, managing your medications, having your vision checked, and making your home safer are all steps you can take to prevent a fall.

Many older adults fear falling, even if they haven't fallen before. This fear may lead them to avoid activities such as walking, shopping, or taking part in social activities. But staying active is important to keeping your body healthy and actually helps to prevent falls. So don't let a fear of falling keep you from being active! Learn about what causes falls and how to lower your risk of falling so you can feel more comfortable with staying active.
If you take care of your overall health, you may have a lower chance of falling. Most of the time, falls and accidents don't just happen for no reason. Here are a few tips to help lessen your risk of falls and broken bones:
Stay physically active. Plan an exercise program that is right for you. Regular exercise improves muscles and makes you stronger. Exercise also helps keep your joints, tendons, and ligaments flexible. Mild weight-bearing activities, such as walking or climbing stairs, may slow bone loss from osteoporosis, a disease that makes bones weak and more likely to break
Try balance and strength training exercises. Yoga, Pilates, and tai chi can all improve balance and muscle strength. You can also try lifting weights or using resistance bands to build strength. Learn more about different types of exercises to improve balance and strength.
Fall-proof your home. Check out these tips for changes you can make to your home that will help you avoid falls and ensure your safety.
Have your eyes and hearing tested. Even small changes in sight and hearing are linked to an increased risk for falls. When you get new eyeglasses or contact lenses, take time to get used to them. Wear your glasses or contacts as your eye doctor advises. If you have a hearing aid, be sure it fits well and wear it.
Find out about the side effects of any medicines you take. If a drug makes you sleepy or dizzy, tell your doctor or pharmacist.
Get enough sleep. If you are tired, you are more likely to fall.
Avoid or limit alcohol. Too much alcohol can lead to balance problems and falls, which can result in hip or arm fractures and other injuries.
Stand up slowly. Getting up too quickly can cause your blood pressure to drop. That can make you feel wobbly. Get your blood pressure checked when lying and standing.
Use an assistive device if you need help feeling steady when you walk. Using canes and walkers correctly can help prevent falls. If your doctor tells you to use a cane or walker, make sure it's the right size for you. Walker wheels should roll smoothly. If you borrow walking support equipment from a friend, ask your health care provider to make sure the equipment is the correct size and is safe to use. This is exceptionally important when you're walking in areas you don't know well or where the walkways are uneven. A physical or occupational therapist can help you decide which devices might be helpful and teach you how to use them safely.
Take extra caution when walking on wet or icy surfaces. These can be very slippery! Use an ice melt product or sand to clear icy areas by your doors and walkways.
Keep your hands free. Use a shoulder bag, fanny pack, or backpack to leave your hands free to hold on to railings.
Choose the right footwear. To fully support your feet, wear nonskid, rubber-soled, low-heeled shoes. Don't walk on stairs or floors in socks or in shoes and slippers with smooth soles.
Consider staying inside when the weather is bad. Some community services provide 24-hour delivery of prescriptions and groceries, and many take orders over the phone.
Always tell your doctor if you have fallen since your last check-up, even if you did not feel pain when you fell. A fall can alert your doctor to a new medical problem or issues with your medications or eyesight that can be corrected. Your doctor may suggest physical therapy, a walking aid, or other steps to help prevent future falls.
Read more here on fall prevention and what to do if you experience a fall.