August 26, 2021
Published by: CHI Living Communities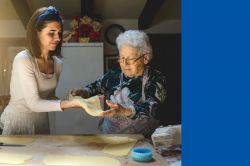 Also with age comes experience and lessons learned. Wisdom has taught older adults that they've weathered tough times before, and so they certainly can again … including a worldwide pandemic!
Still, if you are concerned about being lonely despite the world starting to return to "normal," perhaps because your spouse or a close friend has died recently, or you have no children or your children live many miles away, psychologists suggest the following:
Get out. As you begin to reenter the world more, take advantage of short outings. Visit the library to check out a new best seller. Simply getting out and doing things will help you connect with others, including the gentleman standing next to you at checkout or that college student at the coffee shop.
Get social. If you're not already on it, try Facebook or other social media platforms! All you need is a smart phone or computer. It's free and easy to learn. If you're unsure, you can take a free class at the library or ask your grandchild how! You'll soon be able to connect with childhood classmates, former co-workers, neighbors and relatives.
Stay active. Exercise at any and all ages! Even if your mobility is limited, try walking short distances in a store, at the mall or another place where other people will be to help ensure your safety. The more you stay active outside your house, the more connected you will feel.
Play tag. If you no longer drive or shouldn't, ask a neighbor or friend if you can "tag along" the next time they run an errand or want to take a coffee break. Even if it's just for 20 minutes, short trips can make a big difference.
Make lunch plans. Instead of waiting for an invitation, call a friend or new neighbor to see if they want to join you for a pizza or share some take-out food. You don't need to fuss with making a large or expensive meal for others. Companionship always makes anything taste better!
Talk to a pro. More than 20% of older adults have a mental health issue, like substance abuse, depression or anxiety. Yet, fewer than 4% of seniors take advantage of therapy or other psychological assistance covered by Medicare. Never hesitate to ask for help! If you don't know where to start, ask your doctor or Area Office on Aging if they can recommend a therapist or other mental health services.
By getting out, reaching out and seeking help, you soon will learn there are many people who want to connect with you.