Buying the Right Mattress
August 6, 2021
Published by: CHI Living Communities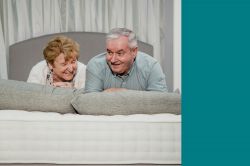 Under normal use, most mattresses should be replaced every seven or eight years, although some last a bit longer or less. If you often wake up sore, toss and turn during the night because you can't get comfortable, have more allergy symptoms, hear lots of creaking or your mattress has sags, it's time to shop!
Be sure you try different types of mattresses before you buy. If you haven't purchased one in the last decade or two, you may be surprised at all of the choices! Don't get overwhelmed; take your time when you shop because this is a purchase that you'll have to live with for many years to come. Also, never assume a more expensive mattress is the better buy.
Tips to for mattress shopping:
If you weigh more than 200 pounds, do not purchase a memory foam mattress. Over time, it probably will not give you enough support.
Skip purchasing box springs if you already have them. Your old ones are likely just fine. As an added bonus, you can save about $200 to $300 when purchasing a queen-sized mattress if you skip the box springs.
Buy when there are sales. Traditionally, the largest savings occur during Presidents' Day, Memorial Day and Labor Day weekends.
e-Shop after you test mattresses in a store. While you may want to support local sellers, don't be afraid to also do a little research online to ensure you get a competitive quote for a store-bought mattress.
By doing your homework, lying on several store mattresses for at least 15 or 20 minutes each, and determining which is most comfortable for your specific body type and needs, you will rest easy for years to come.