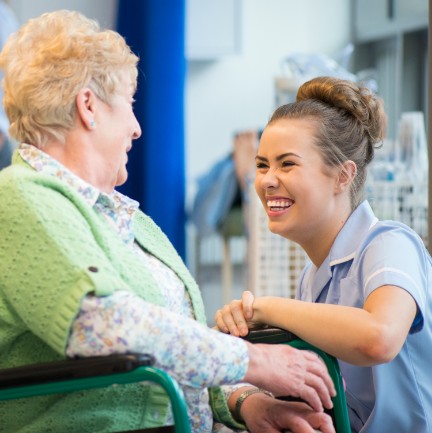 Looking for a sense of purpose?
Clinical careers at Franciscan Care Center
Find camaraderie and opportunities for growth as a nurse or nurse aide at Franciscan Care Center.  The positions below are open and awaiting your application. If you prefer, you may fill out the form below to have our recruiter get in touch with you for more information.
Current Openings
Franciscan Care Center located in Toledo, Ohio has various opportunities for you to join our team. We are seeking candidates who will promote the values of Compassion, Inclusion, Integrity, Excellence, and Collaboration in their interactions and the care they provide our residents.  If you wish to join a team where you will be valued and appreciated, Franciscan Care Center is the place for you.   
Prefer to talk to a nurse recruiter?
Why choose Franciscan Care Center?
Our nurses and nurse aides are dedicated to making a difference in the lives of older adults in our faith-based senior living communitiy!
Franciscan Care Center is looking for individuals that will live and reflect our values of compassion, inclusion, integrity, excellence, and collaboration.
Working for Franciscan Care Center, you'll practice at the top of your license while collaborating with a talented team dedicated to providing quality patient care.
We recognize our employees' contributions to CHI Living Communities by offering benefit programs to enhance and preserve their work/life balance and helping them protect, plan, and prepare for today and tomorrow. Learn more about our employee benefits.
For a complete list of open positions at Franciscan Care Center, click here .
Why you will love working at Franciscan Care Center?
Competitive hourly rates
 Full and part-time positions available
 Flexible scheduling
 Tuition reimbursement
 Paid time off
 Company match 401K
 Comprehensive benefit package